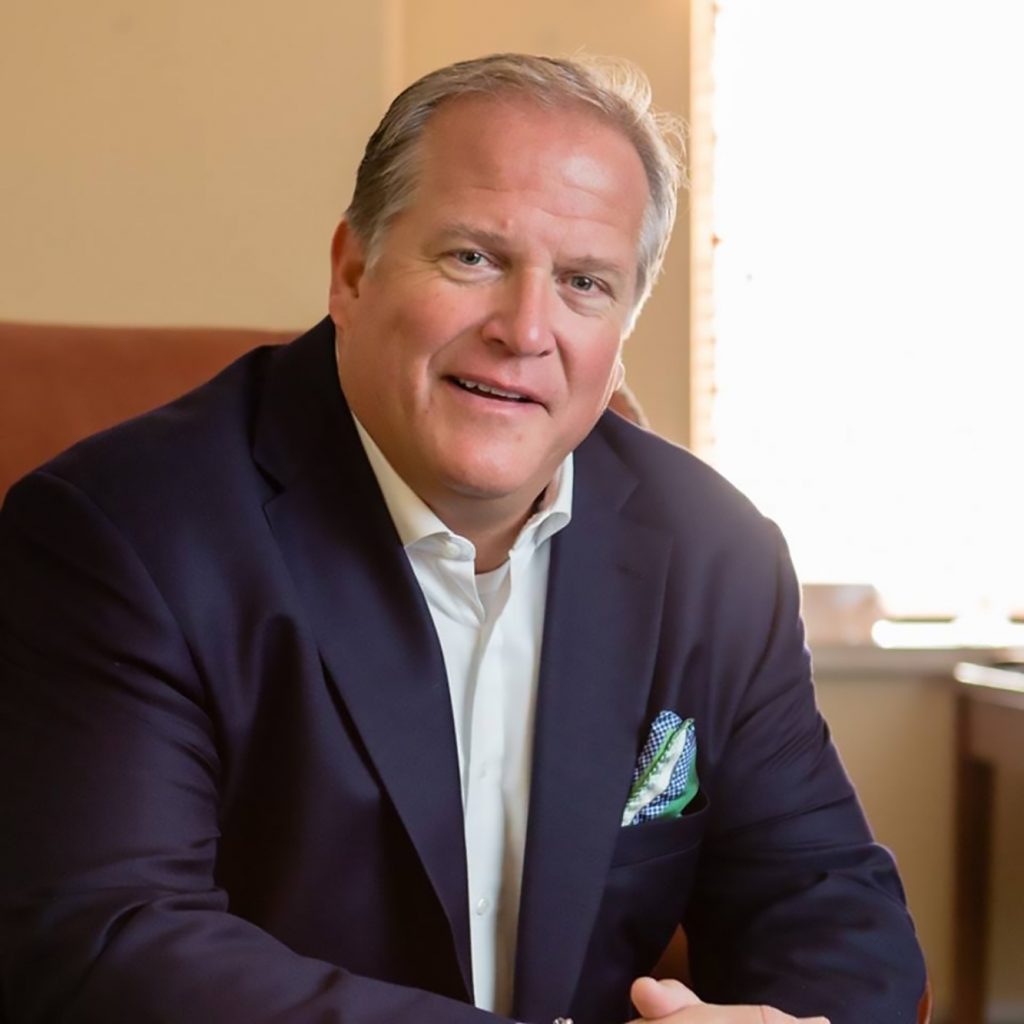 As a 30-year veteran in the health care industry, Donn Sorensen's storied career has helped to produce many things: success for the health care organization he works for, expanded health care services to more patients, care closer to home, improved patient experience, and the development of management teams with big hearts and a high level of expertise.
How has he accomplished that, you might ask? The answer is a carefully designed approach to building leaders who guide with compassion and empathy. As executive vice president of operations for Mercy Health and regional president of Mercy's West region, and previous roles as vice president and COO of Mercy Clinic in the east Missouri region, one of his priorities has been to be a big-hearted leader, who, in turn, inspires and helps to develop other big-hearted leaders.
Moving from Minnesota to St. Louis six years ago, Sorensen said the city has definitely become his home. Much of his leisure time is spent with his two children, Alec, 25, and Jenna, 21, and he's a huge sports fan.
And he is passionate about changing lives – in more ways than one. Not only does he work to improve the overall patient experience at Mercy, and develop strong and compassionate leaders, his passion as a board member for philanthropic organizations that help children, like Care to Learn, is a driving force for him. Remaining enthusiastic about all of these endeavors is key to staying excited, and thus, productive in all aspects of life.
His book, "Big-Hearted Leadership," explores the details of many aspects of building strong and compassionate leaders, and one at the top of his list is enthusiasm. Enthusiastic leaders manage others who catch that enthusiasm, which they can't help but pass on to their job and tasks at hand. Sorensen shared some of his words of wisdom on keeping that fervor alive in the workplace.
Q: How do you describe enthusiasm?
Sorensen: In the Greek language, enthusiasm means "God inside." Nothing great is accomplished without enthusiasm as a leader, and the feeling that gives you. It's a known fact, that as you perform tasks, you lose energy; it diminishes, much like a car uses fuel and runs out of gas, people work hard and begin to lose their enthusiasm and energy.
Q: As a leader, how do you help replace that energy and enthusiasm for your employees?
Sorensen: To keep your employees enthusiastic, you do need to replace energy in order to keep us all focused. What replaces it is different for different people. That might be positive feedback or showing genuine interest in their lives. There's a way to fill everyone's bucket.
Q: By the same token, how do you – as a leader – keep that enthusiasm alive in yourself?
Sorensen: As a leader, you have to make sure to take time to replace your own energy – and enthusiasm. For me, it is spending time with my friends and family. For others, it might be quiet or alone time, reading a good book, or going to the gym. You just have to be aware, and make sure that you provide whatever it is you need to stay enthusiastic.
Q: How important is enthusiasm for people to do their job – and enjoy getting up and going to work every day?
Sorensen: Extremely important. It helps keep you and your employees focused and empowered. And the more you feel it as a leader, the more you are able to pass that onto those who work for you. Enthusiasm is contagious.
Q: You have always been involved in philanthropic endeavors, particularly with Care to Learn, where you have served as board chair for a number of years. What drives you with this organization?
Sorensen: We want to help kids to be successful in school and break the generational poverty gap. It's not their fault that they were born into poverty, yet they often face the consequences that can keep them from getting an education, which keeps the cycle in motion. If a child has no food, they may not sleep because they are hungry, and the last thing they are thinking of is studying. If they don't have proper clothing for school, they may dress in such a way that they are cold or hot, or even, just embarrassed. All of these things contribute to them not getting a proper education. We want to change that for as many children as possible. And once again, keeping up enthusiasm for a cause you believe in is essential and contagious.
Sorensen's book, "Big Hearted Leadership," delves even deeper into the sheer magic of enthusiasm, and how it can transform your business, your satisfaction with work and the success of your employees – not to mention, life in general.  
Sorensen is a Fellow of the American College of Medical Practice Executives and a former board chair for the American Medical Group Association. He earned a bachelor's degree in business administration from Luther College in Decorah, Iowa, a master's in health administration from St. Mary's College in Rochester, Minnesota, and a master's in business administration from Missouri State University in Springfield, Missouri. For more information on "Big-Hearted Leadership," visit donnsorensen.com. A portion of book sale proceeds go to the Mercy Foundation.