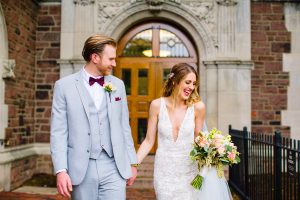 WEDDING DATE: May 19, 2018
CEREMONY & RECEPTION: Christ Church Cathedral & The Coronado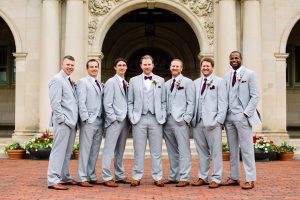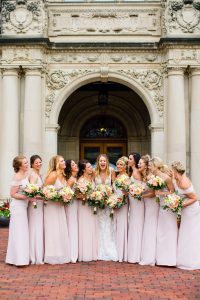 ABOUT THE COUPLE: He's a sales and marketing coordinator at Drury Hotels. She's a marketing coordinator at Stifel. The couple lives in Webster Groves.
HOW DID YOU MEET? 
Hannah: I was working as director of promotions for the Gateway Grizzlies when Tucker came to play for them as starting pitcher. Before every game, sponsors or children would sign up to throw out a first pitch. It was always difficult finding a player to catch the pitches as they were always warming up and getting ready for the game. Tucker would constantly be one to actually volunteer to help me out and catch the first pitches no matter how many were in the lineup. From there, we started to talk more, and he eventually asked me out on a date to a Cardinals Game (as if we didn't already have enough baseball in our lives)!
WHAT INITIALLY ATTRACTED YOU TO EACH OTHER?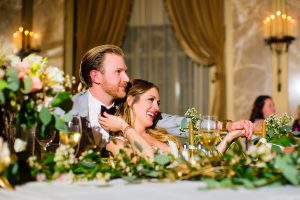 Hannah: For me, it was that he would constantly volunteer to do something I know he did not like to do. At first, I just thought it was a really sweet gesture and that he was just that type of person. I quickly realized it was also because he wanted the opportunity to talk to me. Later, I found out that he could also tell I was always so stressed before the games, getting everything together; and he knew volunteering would calm me a little bit. From the beginning, there was a comfort level with him even when we were only exchanging a few sentences. It was his sweet and caring demeanor that I originally just felt drawn to.
Tucker: There was just something there with Hannah. No cliche intended, but when you notice someone with a great personality and energy, one is just drawn to that person. It is infectious and one would just want to be around it as much as they can. This is why I started catching first pitches for Hannah, to be around her more. I went to the Casino Queen on my birthday, I invited Hannah, but she stood me up. She would later go to a Cardinals game with me as our first date.
HOW DID HE PROPOSE? 
Hannah: Every year with my family, we have always gone to Charleston, South Carolina, for vacation. It is my favorite place, and Tucker has always known how much I love going down there. On our first night down there in 2016, we went to dinner with my family. His parents (who live in Daytona Beach, Florida) had actually come up to see us for a couple days – which I thought they just wanted to get a little vacation time in. After dinner, we went for a walk on the beach together and that's when he asked.
WHAT WAS UNIQUE ABOUT YOUR WEDDING? 
You hear all these disaster stories of how big things go wrong leading up to the wedding, or you have the snowball effect where one thing leads to another, then another and just everything starts to go wrong. We honestly did not experience any of these things. I think it was a combination between choosing an amazing team to help us with everything and  it was just that we were so happy and excited that nothing seemed to cloud the day for us. We kept in mind that the only people who would know that something didn't happen or didn't happen the way we wanted it to was us.
YOUR FAVORITE MOMENT ON YOUR WEDDING DAY?
Hannah: I absolutely loved the entire day. I was a crazy-happy person that day; the longer the day went on, the happier I got. My very favorite moment of the day, though, was walking down the aisle. When I started walking, I saw Tucker's face. He was crying and it was the most beautiful moment of my life. He face had all the emotion I could have hoped for; the way he looked at me with so much love and adoration, I will think about it for the rest of my life.
Tucker: My favorite moment was watching her walk down the aisle. I didn't need any reassurance that I loved her, but having that moment of vulnerability was a testament to myself it was for real.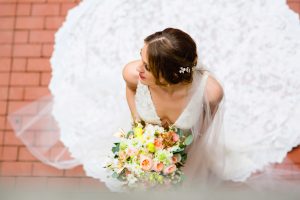 WHAT DO YOU CHERISH MOST ABOUT YOUR RELATIONSHIP?
The thing we cherish most is the comfort we have with one another. There is no judgement or concern about what the other one will think. We are 100 percent honest and upfront with one another. We work to listen and communicate with one another when we do have an issue so it doesn't build into something worse. We know we can be ourselves together, and will always support one another through everything.
WHEN DID YOU REALIZE THIS PERSON WAS THE ONE? 
Hannah: It honestly wasn't too long after we started dating. I didn't really realize it so much at the time but looking back, we just hit this spot where I didn't think about anyone in my life but him. He is always there for me, and always knows exactly what I need before I even have to say it. He reads me like a book, and knows me better than I know myself sometimes. He is the most calming presence in my life, and I am happy everyday because of him.
Tucker: It really didn't take a long time to realize. I was very comfortable with her. We would talk things out if we ever had our frustrations or differences. We had lived together for three-plus years and everything was going great. I kind of knew from the start that this could be something special. The energy and personality that originally drew me towards her never went away. I had always known I wanted to be with her for the rest of my life, but having that vulnerability on our wedding day summed up all my feelings and realization.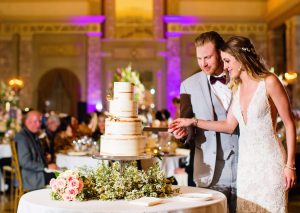 CEREMONY: Christ Church Cathedral
RECEPTION:  The Coronado
PHOTOGRAPHY: Jennifer Klink Photography
VIDEO: Levi Kirby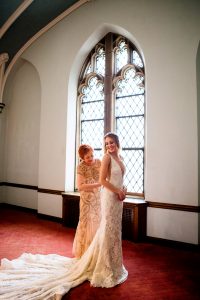 DRESS: Atelier Pronovias – Mia Couture
BRIDESMAIDS' DRESSES: Bella Bridesmaids
TUXEDO: Men's Wearhouse
RINGS: Lordo's Diamonds
HAIR: Hair by Margo (Margaret Snopek)
MAKEUP: Emily Miller Makeup & Hair
FLOWERS: Botanicals Design Studio
ENTERTAINMENT: KC Flo
CATERER: Butler's Pantry
CAKE: Sugaree Baking Co.
WEDDING COORDINATOR: Saving Grace Occasions (Grace Freeman)