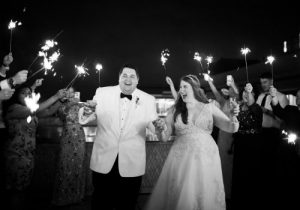 DATE: May 19, 2018
CEREMONY: St. Anthony of Padua Catholic Church
RECEPTION: The Chase Park Plaza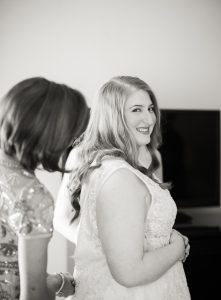 ABOUT THE COUPLE:
She's a magazine editor from Kirkwood; he's an attorney from Fenton. The couple currently resides in New York City.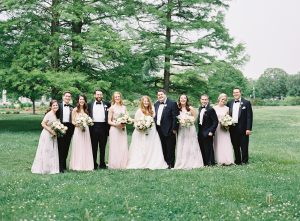 HOW DID YOU MEET?
We met through mutual friends in March 2009 toward the end of our senior years of high school. Michael went to De Smet and Lauren went to Kirkwood, so our paths hadn't crossed before then.
WHAT INITIALLY ATTRACTED YOU TO EACH OTHER?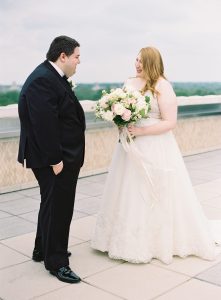 Lauren: He is the funniest person I've ever met. The first thing he ever said to me even made me laugh: He asked me if I was the nice one or naughty one of my friend group. Of course, he's handsome, as well, and his baby blue eyes still give me butterflies. But his sense of humor and friendliness definitely piqued my interest when we first met.
Michael: Other than Lauren's beauty, we have a similar sense of humor. No one can make me laugh as hard as Lauren can.
HOW DID HE PROPOSE?
To celebrate Michael finishing law school and taking the bar exam, we went on vacation with his family to South Africa. For part of the trip, we took an old-fashioned luxurious train called Rovos Rail from Cape Town to Pretoria. It was our last night on the train and Michael popped the question during dinner between the cheese and dessert courses. I don't remember much of the proposal because I immediately got emotional and had a blackout-like feeling of pure happiness. I even gave Michael my right hand instead of left to put on the ring. After dinner, we went back to our room to have a celebratory Champagne toast and looked out at the stars in the South African countryside, while reflecting on the past seven years of our relationship.
WHAT WAS UNIQUE ABOUT YOUR WEDDING?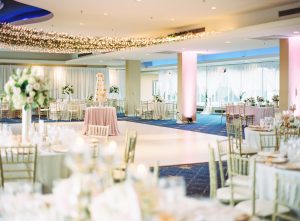 Lauren: Making a wedding unique is one of the hardest aspects of planning because it's hard to do things that really stand out, but I think we had some really fun and special details. Michael's mom had the great idea to have a cardboard cutout of us in the cocktail hour space, which was fun for our guests to interact with. We also had a nod to our engagement location, with gold-painted safari animals that held our table numbers. Another fun detail was having personalized poppers (a Stachiw family Christmas Eve tradition) that were at every place-setting during dinner and filled with paper crowns, jokes, bubbles and whistling lips.
FAVORITE MOMENT ON YOUR WEDDING DAY?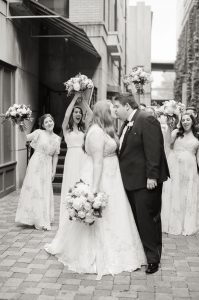 Lauren: It's hard to narrow it down, but there are two moments that I'll never forget: One was definitely our first look. It was important for us to take some time to spend together alone on our big day. There's so much craziness going on during wedding day, so getting five minutes to see Michael before we became husband and wife to hug and steal a few smooches meant so much. He looked so handsome and it was such a relief for him to finally see me in the dress I'd wanted to show him pictures of for months. And my second was surprising Michael with our college mascot (Mizzou's Truman the Tiger) during our reception. Our wedding planner, Megan, and I had been scheming for six months prior, and the look on his face when he spotted Truman coming into the room said it all!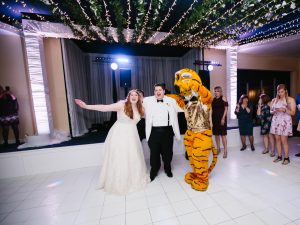 Michael: My favorite memory of our wedding day was the time we spent just the two of us immediately following the ceremony. The day is spent being surrounded by all of our loved ones, so it was nice for us to take in the moment after becoming husband and wife.
WHAT DO YOU CHERISH MOST ABOUT YOUR RELATIONSHIP?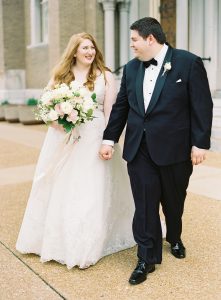 Lauren: There's so much I cherish about the almost 10 years Michael and I have been together. Living in New York City and away from our families isn't easy, so it's reassuring to have my best friend to navigate life with, from the fun to not-so-fun stuff means so much. Nothing makes me happier than the weekends after a hectic workweek that we spend in our apartment doing literally nothing. We have the best time doing anything and everything together.
Michael: It's hard to pinpoint one thing, but I love that Lauren is my partner in life. We have our favorite things to do together (watching sports, going to the movies, reading books, etc.) and I couldn't imagine life without her. We're always up for an adventure, from booking trips to pulling good pranks on each other.
WHEN DID YOU KNOW THIS PERSON WAS THE ONE?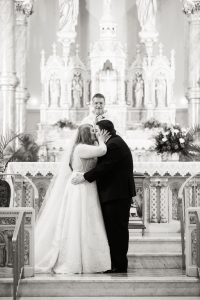 Lauren: I knew pretty early on that Michael was my person, but it was our first trip together that solidified this feeling. We went to Seattle to visit my dad, who had recently moved there with my stepmom, and then we drove the 2,000 miles back to St. Louis. Road trips can be beyond stressful and definitely test a relationship, but our four-day trip was a lot of fun and we reminisce about it frequently.
Michael: We spent three years together at Mizzou, seeing each other every day; and then I headed to NYU for law school, where we were long distance for a year. There was definitely a void not being around Lauren constantly that year, and it confirmed that I wasn't complete without her.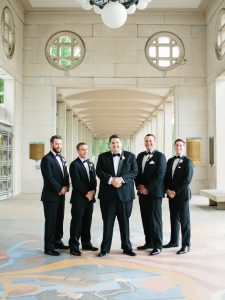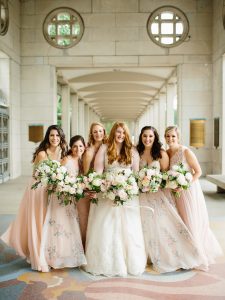 CEREMONY: St. Anthony of Padua Catholic Church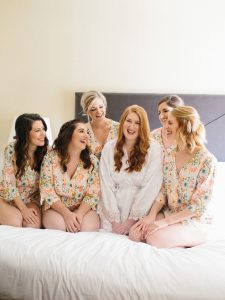 RECEPTION: The Chase Park Plaza
PHOTOGRAPHY: Lauren Muckler Photography
VIDEO: Millennium Productions
DRESS: Kleinfeld Bridal (shop); Sottero and Midgley (designer)
BRIDESMAIDS' DRESSES: Jenny Yoo and Adrianna Papell
TUXEDO: Men's Warehouse
RINGS: Vincent Jewelers
HAIR & MAKEUP: Savanah Summer Luxury Hair & Makeup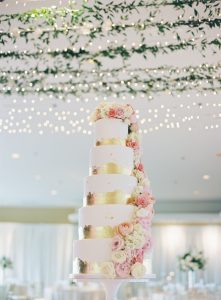 FLOWERS: The Special Event Florist
ENTERTAINMENT: Millennium Productions
CATERER: The Chase Park Plaza
CAKE: Sugarbelle Cakery
WEDDING COORDINATOR: Megan Rusch Soirees