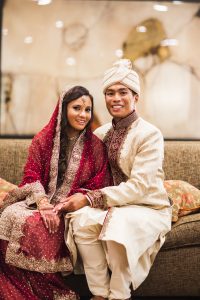 WEDDING DATE: July 7, 2017 (Indian/Muslim ceremony); July 8 (Filipino/Catholic ceremony)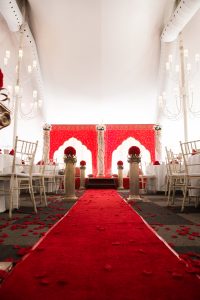 CEREMONY & RECEPTION: DoubleTree by Hilton Chesterfield (July 7), St. Francis Xavier College Church and NEO on Locust (July 8)  
ABOUT THE COUPLE: He's systems engineer with Boeing. She's an attorney with Perficient Inc.  
HAVE THERE BEEN ANY CHALLENGES JOINING YOUR CULTURALLY DIVERSE BACKGROUNDS? 
Jeff: Since we had been together for nine years before we got married, we have had a long time to get adjusted to any differences that we may be experiencing. We've both been very accepting of each other's cultures, and we aren't trying to change each other. We also both have very supportive families that will always be there for us.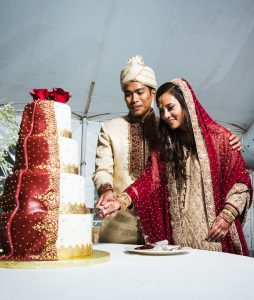 Sufia: As for our diverse cultural backgrounds, I think, overall, it has made our life more interesting and richer with the types of experiences we've shared. Since Jeff is 100-percent Filipino and I'm half Filipino and half Indian, we are able to share our Filipino culture together. I love the idea of being able to preserve the Filipino traditions we learned from our parents and passing them down to our future children. I also truly appreciated how much Jeff embraced Indian traditions for our wedding. We spent a weekend in Chicago with my family selecting our Indian wedding outfits at the shops on Devon Avenue. He even learned how to do the Indian style of dancing for our wedding reception, where he performed a choreographed Indian dance with his groomsmen and close friends.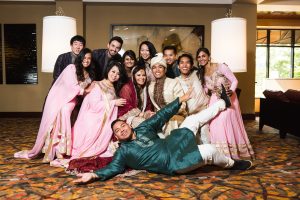 HOW HE PROPOSED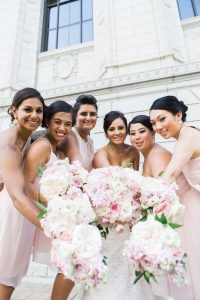 Jeff: We took a weekend trip to Las Vegas with some friends. Sufia and I got there a couple of days earlier to spend some time alone. One day, I arranged to take a bus tour to the Grand Canyon. We were allowed to walk around different areas of the Canyon, and I took her to an isolated area where we rested for a bit. I had these custom fortune cookies made that asked the question, "Will you marry me?" I offered her a snack, either a protein bar or some fortune cookies. She took a fortune cookie, and I took out the engagement ring as she read the fortune.  
OUR FAVORITE WEDDING DAY MOMENTS 
Jeff: My favorite part of our wedding weekend was our "first look." That was the first time that I saw Sufia in her wedding dress and she looked so beautiful. I was kind of nervous all day and when I saw her, I wasn't nervous anymore.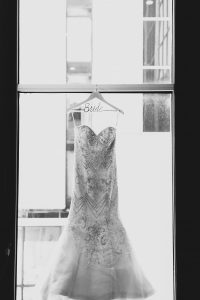 THE INSPIRATION BEHIND HER WEDDING DRESS(ES) 
Sufia: For my Indian wedding, I wanted a traditional Indian bridal outfit, which is why I chose the red and gold dress. For the Catholic/Filipino ceremony, I wanted it to be glitz, glamour and a real wow factor to set the tone for the wedding. 
WHAT HAS KEPT US TOGETHER 
Sufia: It's our commitment to each other and our desire to fight for each other rather than with each other.