Holiday traditions are often mixed with molasses and ginger, seasonal ingredients combined into sweet fragrant dough, which is transformed in the hands of the accomplished chefs at Ameristar Casino Resort & Spa – St. Charles and The Ritz-Carlton, St. Louis — chefs who annually bake and display intricate gingerbread houses and villages designed and built to support charitable causes during the holiday season.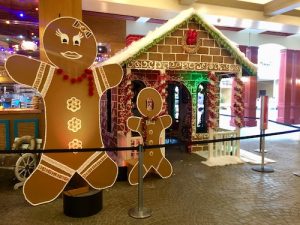 To support the Center for Hearing and Speech, more than 900 hundred pounds of gingerbread were used to construct the life-sized gingerbread houses large enough to dine inside at Ameristar Casino Resort & Spa – St. Charles. Ameristar's executive pastry chef Cori Schlemmer and executive chef Josh Schlink added 400 pounds of powdered sugar, 350 cookies, 500 gum drops and 10 gallons of white chocolate to construct the venerable gingerbread mansion, which includes a dining room with working fireplace.
"Guests love the electric fireplace, the music and holiday décor," Schlink said. "We added a covered porch, a tap snap selfie station and lollipop topiaries that are made with 1,500 lollipops. The house took our team two weeks to mock up and our pastry team 175 labor hours to cover the house."
Guests can enjoy brunch or dinner inside the gingerbread house, based on a seasonal menu showcasing the property's Falcon Diner. Dining experiences are available now through Sunday, Dec. 23. Reservations can be made by making a $50 fully tax-deductible donation. Outside of the donation, brunch is offered at $20 per person, and $25 per person for dinner.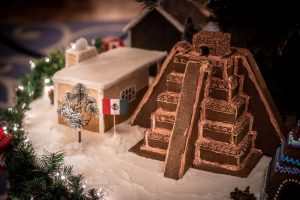 In downtown Clayton, The Ritz-Carlton, St. Louis pastry chef Jeanine Edmonds-Mott has taken the iconic evergreen and transformed it into a spectacular life-sized gingerbread marvel: a five-level holiday tree, sculpted in gingerbread that reaches the hotel's lobby ceiling chandelier. Built within its "branches" are gingerbread holiday scenes from around the world. Look for the sugary kangaroos, pyramids, windmills and Santa Claus on a snowboard. To "grow" his gingerbread tree, Chef Edmonds-Mott used 75 pounds of flour, 100 eggs, 50 pounds of powdered sugar, 25 pounds of butter, 15 pounds of egg whites, 10 pounds of molasses and 3 pounds each of ginger and cinnamon.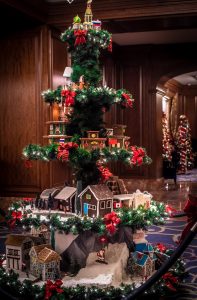 The tree is on public display, free of charge, until Dec. 29. As a special interactive option, the hotel invites individuals to personalize a gingerbread ornament in honor of a loved one, with each ornament to be hand-applied to a colorful garland which will circle the tree throughout December. The cost to personalize each ornament is $15, with 100 percent of the proceeds donated to the city's Ronald McDonald House.
To delight in the joy of gingerbread while contributing to The Center of Hearing and Speech and The St. Louis Ronald MacDonald House, plan a visit. Just visit the holiday event pages at AmeristarStCharles.com or the RitzCarlton.com for reservations and holiday information.