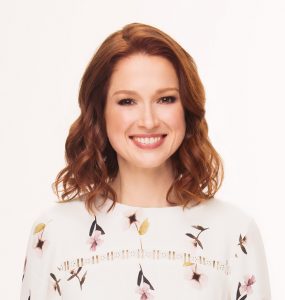 Growing up, Ellie Kemper spent a lot of time in the backyard, in a tree house built by her dad. She admits she should have been going to middle-school mixers instead, but at the time, she was determined to make a connection with one particular critter.  
"I was watching a lot of 'Dances with Wolves' and 'Gorillas in the Mist,' so I would go to the tree house and try to be one with nature," she recalled. "There was a squirrel in the backyard, and I'd sit there and watch it for hours on end."  
Until the day she fell while climbing a tree.  
"It looked like the squirrel was laughing at me," she said. "I had this fantasy that it would come to my rescue. But I realized then that nature is indifferent to humans."  
And while Kemper says the incident brings up a memory of "me trying and failing at something," it's also a reminder of fond, happy memories of a St. Louis childhood surrounded by a close and loving family – recollections she chronicles in her new book, "My Squirrel Days."  
"The title refers to one of the central essays in the book – my ultimately failed attempt to make friends with the squirrel … I overestimated my ability to do that," she said.  
But the book is about so much more, and many of the stories are amusing, witty, funny and self-deprecating – just like Kemper herself.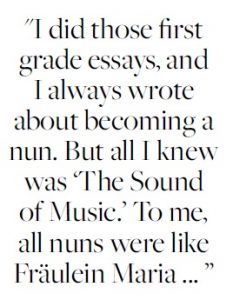 When asked if she had an inkling as a child of what she wanted to grow up to be, Kemper quickly said no.   
"I was so bad at planning, I didn't really give it much thought. I was very envious of the kids who had a precise idea of what they wanted to do," she admitted. "I did those first-grade essays, and I always wrote about becoming a nun. But all I knew was 'The Sound of Music.' To me, all nuns were like Fräulein Maria … it was more fantasy, really."  
What Kemper knew, for sure, was that she loved performing – even then.  
"I've always loved acting, and I was always in high school plays," said Kemper, who attended John Burroughs School and had fellow alum Jon Hamm as her drama teacher. "He was definitely considered to be a hunk by some of his students. But he was such a good teacher. Some people who are good at their craft are not necessarily great teachers. He was good at teaching. He taught me how to improve my acting, which I ultimately did in college and beyond."  
And it was in college, at Princeton University, that Kemper began to appreciate the art of making people laugh.  
"I began doing improv comedy and loved it – it was something I was good at. That's what sparked it, and gave me the confidence to pursue comedy after college," she said. "I grew up watching 'Saturday Night Live,' 'Seinfeld,' 'The Larry Sanders Show,' not thinking this was a job that people do."  
Even her early crushes involved funny men, and late-night icon David Letterman was at the top of the list.  
"It's not that I was dreaming about him at night, but my sister, Carrie, and I would watch Letterman in the kitchen after doing our homework. He was just so funny, his sensibility was just so singular. I tried to watch every time it was on," she said.  
Years later, Kemper herself was a guest on Letterman's show.  
"It was completely surreal," she said of meeting the talk-show host. "It's like meeting a hero and a legend. I compare it to seeing Abraham Lincoln – like a ghost, a character who had only existed in another dimension."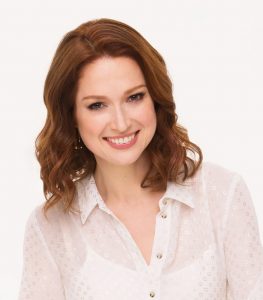 Another encounter during which Kemper would find herself "fan-girling" also involved, strangely enough, a "Lincoln moment."  
"I was in L.A. when I saw Doris Kearns Goodwin at a party," she recalled. "It was the year 'Lincoln,' the movie, was nominated for the Oscar, which was based on her book, 'Team of Rivals.' I was very excited. 
"She's a very slight woman; she's delicate, but her presence is imposing. I went to shake her hand, and she smiled at me and acknowledged me. But then I began to lean forward and hug her … and fell on top of her."  
Needless to say, Kemper was mortified.  
"Just like after any incident of trauma, I remember being sweaty … it all happened so quickly," Kemper said, adding that she once again crossed paths with the celebrated historian at a book party. "She claimed she had no memory of what happened, but I realized she was just too polite to say anything. That was in 2012, iPhones weren't as prevalent, so there was no video. I fell on her … at the right time… in history."  
There was also that time when Kemper first met Tina Fey.  
"I told her she had great hair – really strong and really thick … I'm not sure that's the most amazing first thing to say to a national treasure and icon," she said. 
Awkward experiences aside, Kemper's book also gives us a candid glimpse into her flourishing acting career, from  star turns as Erin in "The Office" and in Hollywood blockbusters like "Bridesmaids," to shows like "Unbreakable Kimmy Schmidt," the acclaimed sitcom (co-created and executive produced by Fey) about a former cult member adjusting to life in New York City. It earned Kemper a 2017 Emmy nomination for Lead Actress in a Comedy Series, and is now in its fourth and final season on Netflix.  
"This will sound corny, but I was very impressed by the character of Kimmy Schmidt. This is a woman who has been through an unimaginable ordeal, seeing the very worst of humanity, and yet she emerges from that experience determined to move forward and see the light in the world. She is the very embodiment of optimism," she said.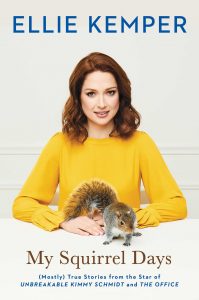 After the show ends (its second half is expected to premiere in January), Kemper said she has no definite plans, but is excited to see what happens next. Probably high on the agenda will be spending time with her husband of six years, Michael Koman, a screenwriter whose credits include "Saturday Night Live" and "Late Night with Conan O'Brien," as well as with their 2-year-old, James.  
"James is a wonder. Even though he's only 2, I already get the sense that he has seen it all – and is unfazed by anything," she said. "I don't get it. I mean, he cries and has tantrums and uses a diaper, but other than that, he's way beyond me … so much cooler than I am, too." 
On Saturday, Oct. 13, Kemper will appear at St. Louis County Library Headquarters for a book signing and discussion of "My Squirrel Days." (Tickets to the event sold out in less than four minutes!) Prior to the library engagement, she'll attend a private cocktail reception to benefit the St. Louis County Library's Career Online High School Diploma Program. "My Squirrel Days," which officially debuts on Oct. 9 is Kemper's first book.