"…there's a place for the great American dream, but the only way for immigrants to get out of poverty is to start from the very bottom – and to get an education."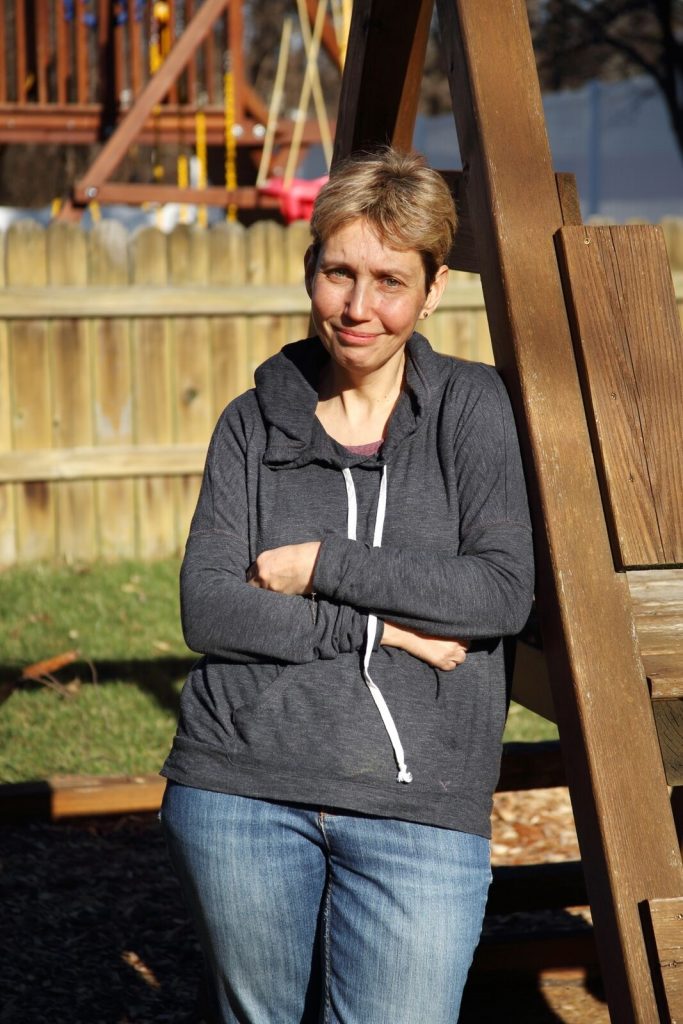 In the fall of 2015, Anna Vasilenok stood before hundreds of people inside a packed church not far from St. Louis Lambert International Airport, where a crowd had gathered to hear about public health risks from radioactive waste found in a nearby landfill.  
"The radiation is dangerous. You don't see it, you don't smell it … ," Vasilenok said. "Some people in the church that day didn't understand the massive danger. And then someone gave me a microphone – that's when my emotions took over."  
Vasilenok, an immigrant from Belarus, had the audience hanging on to her every word.  
"I moved from Chernobyl 20 years ago to save my daughter," she began. Then, she started naming other family members: Her in-laws, an aunt, a cousin, her mother, her father – all of whom were diagnosed with cancer.  
"Do you want that for your children?" she asked. "You can't be quiet anymore." 
Vasilenok's testimony, which was featured in the HBO documentary, "Atomic Homefront," was raw with emotion as memories of the 1986 catastrophe at a nuclear power plant in the former Soviet Union came rushing back. She was 17 when Chernobyl – considered the worst nuclear accident in history – struck just 200 miles from her hometown of Minsk.  
"I remember there was an American doctor on the radio after it happened, and he said 50 percent of kids would die of cancer – and that just stuck with me," she recalled. "We had the baggage of Chernobyl with us, we had to do something to protect ourselves from additional harm." 
That meant being mindful about – among other things – what she put on the table.  
"Our daughter, Lubov, was born in 1992. She was malnourished. We started supplementing with formula, but the formula was made in Belarus, 50 kilometers from Chernobyl," Vasilenok explained. "We had to watch where our food came from. You find what you can find, but you were always careful." 
Vasilenok and her family came to the United States under the Diversity Immigrant Visa Program, otherwise known as the "green card lottery." At the time, she was torn about leaving Belarus.  
"When my daughter was born, we had poverty, an absence of food, hunger. But when we won the lottery, my husband had already built a successful business, and we didn't need to worry about being able to afford things anymore," she said.  
But a chance conversation with a member of her extended family gave her the conviction she sought. 
"My brother's mother-in-law was in the hospital for cancer treatment, and I went to visit her. She asked how I've been, and I told her we won the green card, but also that I didn't know what to do with it." Vasilenok said. "She gave me a look and said, 'You know, 50 percent of the patients here are kids. If years later, something happens to your child … when you had the chance to save your child … how would you live with that?'"    
And so it was that Vasilenok, her husband, Alexandre, and their 4-year-old daughter arrived in the U.S. in 1996. Vasilenok, who was 27 at the time and had a degree in childhood education and psychology, initially found work cleaning people's homes, but she knew she wanted to teach.  
"There was a school not very far from our apartment. I walked to the school and applied for a position," she said. "I think somebody was watching over me. The principal of the school, who had just adopted a child from Georgia (the former Soviet republic), offered me a teaching assistant job. With my master's degree, I was making $5.25 an hour. We had been in America for about a month. I was so happy!"  
She worked at the school during the week; on the weekends, she cleaned houses.  
"Working nonstop seven days a week was hard. But you don't question it, you don't feel sorry for yourself. You do what you do in order to survive," she stressed.  
But she had yet to face the biggest challenge of adjusting to America.  
"The hardest part was our daughter's constant reminders to us that she wanted to go home. She was 4 years old, but she grew up on that flight here," Vasilenok tearfully recalled. "We were on the highway driving home one day, and she asked, 'When are we going to go home?' I told her we had one more exit. Then she said, 'Mom, home is where your family is … home is not this.' That was the darkest time for me."  
In her heart, Vasilenok knew she had to make some changes. To fulfill a teaching requirement at her job, she signed up for a tax class, thinking that it would help her to fill out her taxes. But it turned out to be a class for small business owners on how to do their taxes.  
"That's when I had an idea," she said. "We came to the realization that the only way for me to make a living and be with Lubov was to work from home. So we borrowed money and we bought a home."  
It was the beginning of Vasilenok's home-based child care business, now 20-plus years strong. It's currently licensed for 10 children, most of whom are immigrants or are children of immigrants.  
"America, in the eyes of many people, is a superhero country, but you work hard here. Yes, there's a place for the great American dream, but the only way for immigrants to get out of poverty is to start from the very bottom – and to get an education."  
When asked if she ever dreams of returning to Belarus, Vasilenok shook her head.  
"No, I'm not crazy. This is home now," she said. "Two years after we came here, we went to the (Gateway) Arch for the Fourth of July. When they played the 'Star-Spangled Banner,' Lubov put her hand on her heart and started singing. I thought, 'Oh my gosh, we are home!' If it's home for her, it's home for us!"