"I came to St. Louis for a job—and for love. I believe people only move here for those two things, and I did it for both."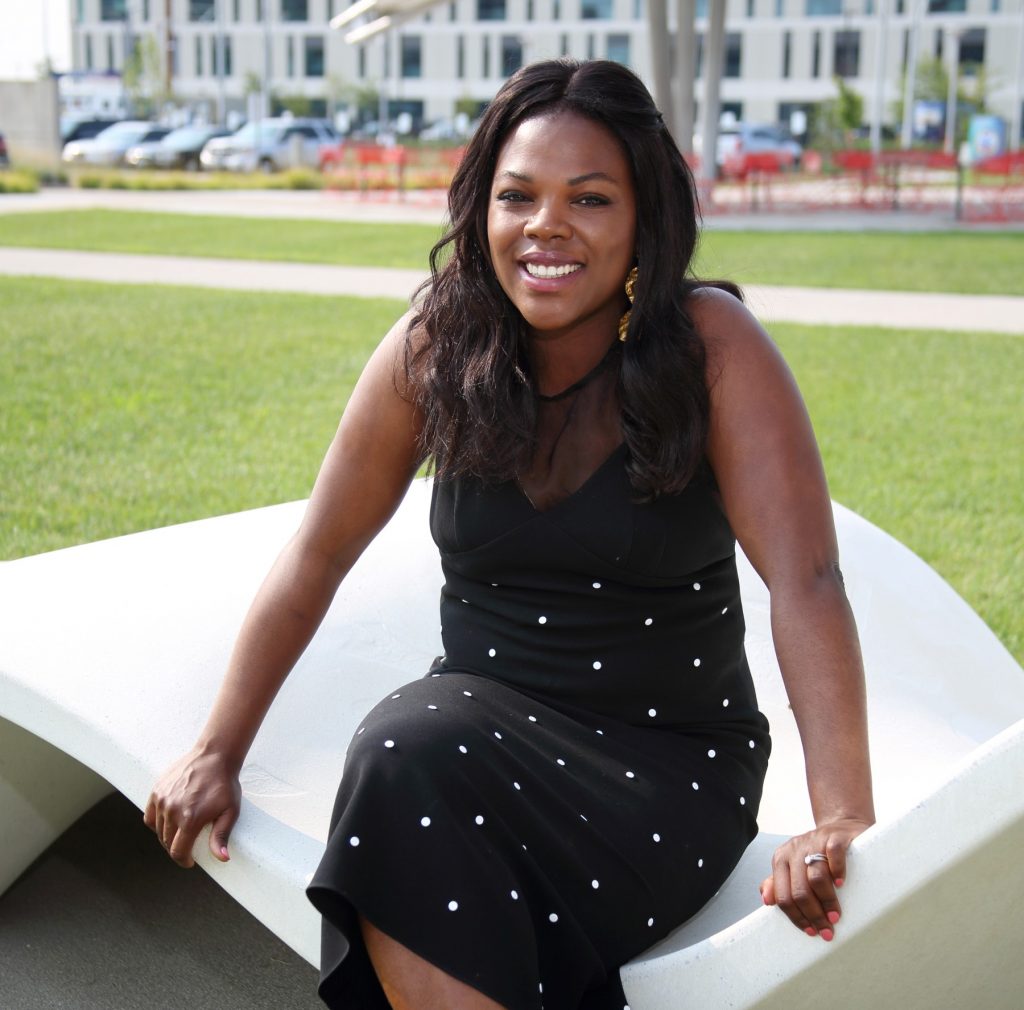 Ronke Faleti lives by what she calls "the African hustle."
"Living in Nigeria, I learned that you don't depend on your professional job all the time for your income," she said. "My parents were both educators in state schools, and sometimes, the state didn't pay for four to six months at a time. During that time, my mother became a baker, and I helped her make fancy wedding cakes. You just never know when the government is going to stop paying. I saw that growing up."
In fact, when Faleti and her family settled in Arlington, Texas, in 1995, the bright and resourceful 11-year-old was already testing out the entrepreneurial waters.
"I had one of those butterfly hairclips, and someone said to me, 'I wish I had one.' So I went to the beauty supply store and got some," she recalled. "They gave me an extra one for a dozen and told me it was a baker's dozen…I didn't even know what that meant. It drove the price down—that was my first hustle."
She had another money-making idea in high school, prompted by her desire to go to prom.
"My African parents weren't about that life. They'd say, 'Why are you spending money that way?'" Faleti explained. "So I had this idea with porcelain beads. I went to Hobby Lobby, and started making these bracelets, which you could upgrade to power beads and include names on it."
The bracelet business took off, and Faleti even had to recruit three other friends for help.
"We made beads during our lunch periods—it ended up paying for all our proms," she said. "There were so many orders from principals, teachers and kids, we had a hard time fulfilling them."
Experiencing entrepreneurial success early on gave Faleti the confidence she needed to power through college.
"I sold student handbooks door to door," she said. "It was awful, but it was great learning ground for how to sell. I was in rural Kentucky, in rural Missouri…every morning, I had a little map and I would work 12 hours a day. I did that for 10 weeks, drove a total of 17,000 miles, and made $30,000 in retail for those 10 weeks. I was able to pay or the rest of my schooling."
Faleti graduated from the University of Texas at Arlington with a degree in business marketing at age 20. Her first job landed her in Tampa, where she worked for JPMorgan Chase as a manager. In 2008, she moved to St. Louis for work, but that wasn't the only reason.
"I came to St. Louis for a job—and for love. I believe people only move here for those two things, and I did it for both," she said. "My boyfriend (Yinka) and I had a long-distance relationship. He came to St. Louis for law school and decided to stay. I was working in Tampa, but I got a great offer from Wachovia (now Wells Fargo) in St. Louis, and they relocated me. But Yinka was the pull to St. Louis."
Faleti has been with Wells Fargo Advisors since, and is currently the director of the company's direct-to-client communications.
Somewhere along the way, she and Yinka (whose family also hails from Nigeria) got married at the Cathedral Basilica of Saint Louis in a Catholic ceremony rich with tradition from their native land, including dancing, clapping to the music, and even a Nigerian priest. The couple has three children: 6-year-old Fisayo, whose name in Nigerian means "God added joy," 3-year-old Tiwalola ("ours is the wealth of God"), and 1-year-old Fifesade ("use love as your crown").
Last year, Faleti added another important name to her personal lexicon: Korede, a Nigerian name that means "to bring joy or goodness."
You could also say that Korede is Faleti's latest "hustle."
"I became frustrated with the lack of stylish and functional handbags that I wanted to carry with a kid. That was in 2015, I just had a baby, so I never really did anything with it…I just went back to work," she said. "When the third baby came along, my mother came to help. I was able to bond with the baby exclusively for six weeks, while Mom got the big kids."
It was during those six weeks that Faleti was able to revisit and expand on her idea of creating and designing functional handbags for those she considered "womaning," a stylish, woman on-the-go who does many things, including being a working mother, an executive who makes time to volunteer, or a stay-at-home mom who also takes care of an aging parent.
"Women in 2018 are looking for a lot of things that work for their life," she noted, adding that in a handbag, that means a carryall that is uncluttered, with features such as easy access to the cell phone, a water-resistant casing for water bottles, and a key fob right at the top.
Faleti's own leather tote Korede handbag, for instance, had separate pockets to hold her laptop, water, yogurt and an ice packet, and even a pair of sandals, as well as snacks and even a change of clothes for her little one.
It wouldn't be a stretch to observe that the multi-faceted products Faleti conceives for Korede mirror what the creator wants for herself. To be that on-the-go "womaning" woman, Faleti adheres to a regimen that works for her.
"I finished this book called 'The One Thing,' which helps you figure out what that one thing is…and everything else becomes easier," she explained. "Prior to reading it, my schedule had been to go to Wells Fargo until 5 p.m., take care of the children until 9 p.m., have an hour to myself, and then do Korede from 10 p.m. to one in the morning—that's a schedule for burnout."
In the weeks following, Faleti was able to come up with a plan.
"I pick two days a week—maybe a Saturday morning—when I focus on things that I can get done. For about six to eight hours, I'm just focusing on sales, for example, and I feel a sense of ease because I'm not thinking about anything else," she said.
The strategy has also erased any doubt that she's on the right track.
"Sometimes when women are doing something, there's this sense that you're not capable—a sense of fear in the work that you're doing. You ask, 'Who am I? Why am I doing this?'" Faleti said, adding that along with her renewed focus, she also has a community of women who serves as a great resource and network. "They help dismiss that 'imposter syndrome.' I've been overwhelmed by the outreach. There are people cheering me on and being receptive to my ideas. I feel really fortunate."