"I like to hear the stories of what happened before I came along … you need to be rooted in story."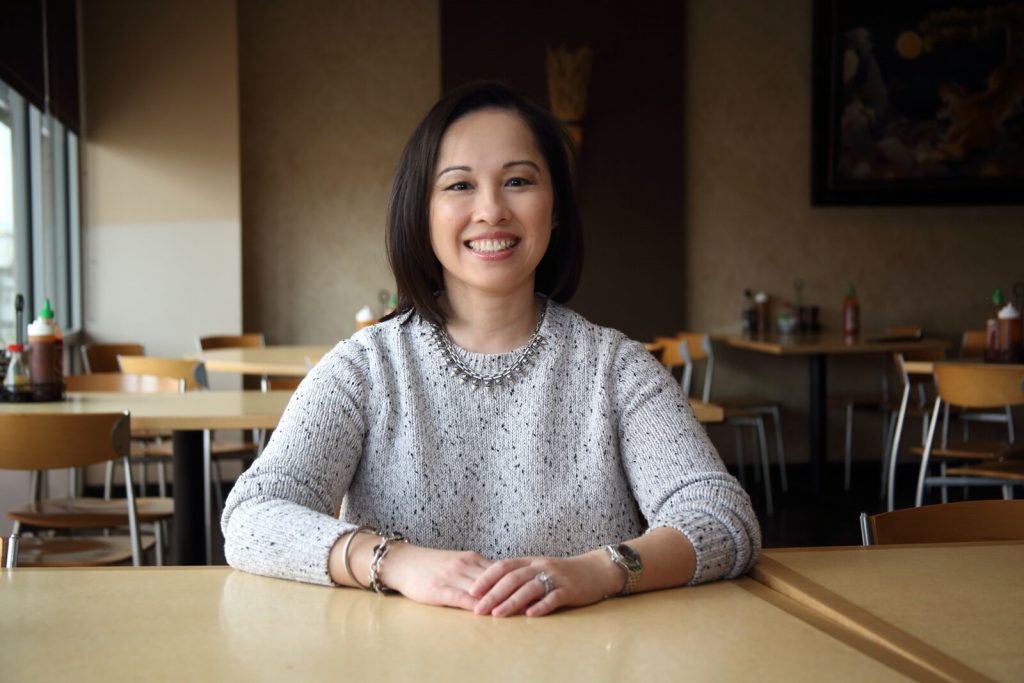 It's a time of transition for Thuy Nguyen. After a 15-year career in high-level sales, she recently decided it was time for a change.  
"I'm not sure what Chapter 2 holds, but I want it to be related to charity work," she declared. "I have always felt that you shouldn't take more than you give."  
One might say benevolence is something Nguyen picked up early on – when she herself depended on the kindness of strangers.  
"I was 4 when my family came here from Vietnam," she recalled. "I really didn't know what was going on. I just remember a whole bunch of people coming to get us out."  
Nguyen and her family – her parents and three younger siblings – came to the U.S. as refugees in 1979. They were sponsored by a church in Hudsonville, Michigan as part of a larger effort to support Vietnamese refugees. She doesn't recall much about those early days, save for a few details. 
"It was around Halloween; they dressed us up in onesies, and we had masks. Things were different … the food, the house, the people looked different, they sounded different … these are pockets of memories that I have, and it was all very exciting to me," she said. "I also remember kindness from everybody around me."   
These acts of kindness from the church sponsors included providing transportation, helping the adults get jobs, and taking the family grocery shopping to stores that sold Asian ingredients.  
After a couple of years, the family moved to Houston, where Nguyen's grandmother had reconnected with friends.  
"In school, I learned very quickly that I had to acclimate. I had to learn the language," she said. "All kids want to be the same. I wanted to be just like my friends – look like them, talk like them, dress like them – I learned to emulate."  
But no matter how hard she tried to fit in, Nguyen said there were constant reminders that she was different. 
"It wasn't until about third grade that I realized what all the snickering and hair-pulling meant," she said. "As kids get older and have more command of the language, they start saying more cruel things – and the words that came with the actions hurt."   
The family moved to St. Louis when Nguyen was in her early teens. 
"The Vietnamese community in St. Louis is definitely smaller (than Houston). It seems everybody knows each other from some connection, somehow," she explained. "I notice that people here just bear down on their work, whether it is working at a restaurant, at a nail shop, or being a student – they just do their own thing." 
And Nguyen was "doing her own thing" on a date at a Vietnamese restaurant when one of the servers came over to introduce himself.  
"He wasn't our waiter, but he asked how dinner was going … and we discovered that he knew my brother and cousins!" she recalled.  
The young man turned out to be her soon-to-be husband, Qui Tran, whose family established Mai Lee as the first Vietnamese restaurant in St. Louis. And it wasn't long after that meeting when he called Nguyen at home to ask her out on a date. She was a little skeptical at first.  
"I thought, 'He can't be that bad.' But I had kissed a whole bunch of frogs," she said. "I had this pre-conceived notion he may be too 'Americanized,' that he wouldn't have the same values, or maybe he was way too deeply rooted in his own culture that he couldn't see progress and appreciate a strong-willed American woman – me."  
At the time, Tran's family was beginning to establish itself as formidable restaurateurs on the St. Louis dining scene, with Mai Lee expanding to a bigger location, and Tran poised to become more involved at the helm, alongside his mother. 
"It was his idea to expand and move, so he had to step up," Nguyen said. "I'm pretty proud to be a part of what Qui and his mom created. I don't do much except eat and support."  
Her husband would disagree, saying that his wife has the "best business mind around." He also credits her for introducing him to his first bowl of ramen, from which the concept of his new restaurant sprung: Qui Tran's highly successful second venture, Nudo House STL, opened in 2017. 
Nguyen beams with pride when she talks about her husband's "celebrity" status in St. Louis and beyond. He was recently featured in Food & Wine magazine, with Nudo's Beef Pho on the cover.  
"He's being recognized here, at the airport. We just did a pho master class in Napa Valley. We were in Napa! And these people chose to come to learn about pho. And that cover (in Food & Wine) that says, 'Comfort Food' on it with the pho? In America? It makes me proud. We're not so different, after all. It puts the cherry on the top of my journey."  
Nguyen may be modest about the role she's played in her husband's success in the restaurant business, but she's convinced she's better than he is in the kitchen – and more well-rounded.  
"I really like food, I've learned how to make all kinds of different food – and I can bake!" she said.  
In fact, Nguyen excels at baking so much that she took charge of an "Epic Bake Sale" in 2015 to benefit Siteman Cancer Center.  
"Cancer has ravaged my family – my brother, grandfather, cousin, uncle, both of Qui's grandparents … it seems it's someone in our family every two years," she said.  
And Nguyen plans on taking her entrepreneurial and business savvy to new heights with new opportunities. One of her current projects is the Love Run 5K on Sunday, May 20, in Kirkwood City Park. Proceeds from the event benefit the Ollie Hinkle Heart Foundation and the Children's Heart Foundation.  
"I like to do 5Ks. I started running after my brother passed away. He was going to beat cancer, and he was going to run a marathon after he did," Nguyen said. "So after my brother passed away, I ran the marathon."  
And while she related that difficult time in her life with a touch of sadness, Nguyen knows that she and her siblings have been fortunate, for they grew up together living the American dream. 
"I like to hear the stories of what happened before I came along. My grandmother lived through the French occupation, the Japanese occupation, the Chinese migration, through multiple conflicts and wars … ," she said. "From what I understand, my grandparents had a pretty decent life in the midst of all that. They were very resourceful; my grandfather made shoes out of old tires, my grandmother and her mother sold fabric on their bikes. They had a general store that sold knickknacks, and my parents helped them run an optical store. When the Communists took over, all of that was taken away from them." 
Nguyen said knowing the stories of her past is key to her present – and future.  
"You need to be rooted in story," she said. "The journey that brought me here as a child is a story that isn't mine to tell, but the story I live in the United States as an immigrant is my own – and the two must exist together."