Confident Competitor. Spiritual. Go-Getter.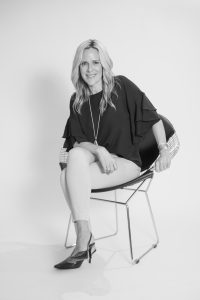 Stephanie Snow Gebel will be the first to tell you, "I grew up in a locker room—" and mean it.  Her father, Jack Snow, was a wide receiver and announcer for the football Rams; her brother, J.T. Snow, was first baseman for the San Francisco Giants. She, too, started working for the Rams, eventually as an administrator in charge of player contracts. In 1995, when the Rams moved to St. Louis, she and her parents followed. 
Thanks to the move, Gebel met her husband, Barclay, the team's practice facility manager, whom she recalls looked "totally sexy in a tool belt." But as the couple's wedding plans were underway, Gebel's mother was diagnosed with cancer and died seven months before the nuptials, leaving her devastated.   
Years later, while raising four young children, Gebel faced another heartbreaking blow. Her 4-year-old daughter, Raquel, was diagnosed with Wolfram Syndrome, a rare neurological disorder affecting 30,000 people globally. The disease leads to blindness and deafness, and those suffering from it have a life expectancy of about 30 years.  
When Raquel was diagnosed, little was being done about researching and find a cure for Wolfram, and so Gebel—a fierce competitor like her athletic family—become its most tenacious warrior. In 2010, with no background in nonprofit management or fundraising, Gebel founded The Snow Foundation to educate, raise awareness and work to find a cure for Wolfram Syndrome. 
Today, Gebel confers with doctors, attends global medical conferences and raises money, as well as oversee the foundation—all while yearning for what really matters.   
"I still want my life as a homemaker, taking care of my husband and kids, and cleaning the toilets," she said.  
Here, Gebel shares what she has learned from being a fearless fighter against Wolfram Syndrome.  
I had to grow up when my mother died right before my wedding.  
I was always the spoiled baby in the family but that changed suddenly. I was planning my wedding while watching my mother deteriorate from cancer. I saw my dad shave my mom's hair and then break down sobbing. What do you do, watching this big 6-foot, 2-inch man cry, when I was the one who always cried on his shoulders? It forced me to grow up and get strong. 
God, what are you trying to show me? 
I loved being a mom, but I was antsy. I prayed to God, "Give me something I can do that will have an impact on the world, but don't let it be at the expense of my children." Then Raquel was diagnosed, and I asked God, "How much can one woman take?" I knew the answer was stop feeling sorry for myself and do something.  
I can raise that money. 
Washington University was doing a clinical study on Wolfram Syndrome, but they needed $150,000 for the second year of the study. Although I'd never done fundraising, I heard myself say, "I can do it." There were people at the Rams I called on and others who stepped up. We met our goal, and that led to the foundation. 
A few years ago, I was mad, mad, mad at the world.  
I was too outspoken and had to be muzzled! Hey, I grew up in a locker room! In meetings, I responded too strongly and didn't take into account that I was talking to very intellectual, very successful doctors with strong egos. Eventually, I was coached about how to be more polished and tactful.  
Our marriage had to break down so we could redefine it. 
Between Raquel's illness and my work running the foundation, our marriage took a hit. It forced us to go into therapy. I'd wanted to be in charge and make all the decisions, but I had to rely on my husband more. We learned how to balance things, which is hard when you have a child in and out of the hospital. I figured out the grass isn't greener, so find a way to be happy where you are.  
My dad taught me to stick up for the underdog.  
He was compassionate and always tried to do good. I didn't know how to run a foundation, but I believed I could figure it out. When I started, there was no hope for these patients; today, we're doing drug trials. I won't quit until we find a cure. I guess I'm just my father's mini-me.