Funny. Spirited. Actor and Producer.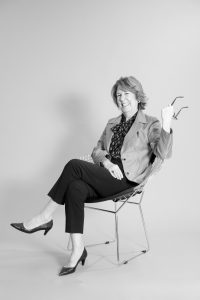 As a child, Stellie Siteman had a rich fantasy life, fueled by her desire to become an actor. Thank to this escape, she explains that problems would melt away, similar to the description in the song, "(Everything is Beautiful) At the Ballet" from A Chorus Line. The lyrics describe how troubled dancers find acceptance at the dance studio.
Wanting to "belong" was crucial for Siteman, who always felt different from other members of her family. Siteman's mother died of a blood clot during her birth, an event that left a deep imprint on her. Eventually her father, Alvin – chairman of Site Oil Company and namesake of Siteman Cancer Center – remarried. His new wife, Ruth, adopted Siteman and went on to have three daughters, creating a blended family that was loving, but didn't always feel like home for young Stellie.
Acting was Siteman's way to fit in, especially in high school, where she could shine as part of the school's theater group. After earning a bachelor of arts in theater from Webster University, she acted in productions staged regionally and throughout the country.
In 2010, Siteman created Max & Louie Productions (named after her bichon frise dogs), which produces premier plays and musical dramas. The company is celebrating its 10th anniversary in January with the show, "Love, Linda," about the life of Mrs. Cole Porter.
For 42 years, Siteman has been with her partner, De Kaplan. They are yin and yang to one another, with Siteman explaining that Kaplan's relentless optimism is finally beginning to rub off. As Siteman enters what she calls her "Third Act," she shares some thoughts about what life has taught her.
"It's easier to love someone who's dead. They make so few mistakes."
This line from "Torch Song Trilogy" explains my relationship with my biological mother. When your mother dies during your birth, you feel responsible. You don't know what she would have expected from you. But when all is said and done, I think that Estelle Goodman Siteman would be very proud of her daughter. If I see her in heaven, I'd tell her, "I love you," and have many questions to ask.
Life is short…avoid causing yawns at all costs.
Theater risks every night. You soar or fall on your butt. My grandparents exposed me to the arts, and we'd sing show tunes together. How I loved Ethyl Merman… she had balls! I wore out the grooves on the record of "Gypsy." With theater, I never have to retire. I can just play parts of older people lying in bed or sitting in a wheelchair.
I'm spending my life with less fear and more adventures.
That's how I'm approaching the "third chapter" of my life. I just took a camping trip to Greenland, where I hiked and actually slept on the ice. In between bites or reindeer, I sipped from my flask of vodka to stay warm. Our guide kept reminding me, "You can do it." And I did.
You must do the thing you think you cannot do.
Of course, you'll be disappointed if you fail, but you're screwed if you don't try. It's not a weakness to fail, it's a strength. Having a very successful father made me want to do well. It fueled belief in myself. I'm very proud of my father and how deeply he wants to give back to the community.
Love is love is love.
During college, I experimented by dating men and women, but that's when I figured out who I was. It was intense, but there wasn't any self-haranguing. I just accepted myself as gay. I believe in the transformative power of love and of theater. The arts unite communities and offer a place for dialog and healing.
Things are always darkest before they go pitch black!
Happiness or misery depends on your disposition, not your circumstances. I am becoming cautiously optimistic, thanks to De, who sees the best in every situation. That's why humor – which I inherited from my grandparents – is so important. I figured out that if you can't laugh at something, you're going to cry. And once humor goes, there goes civilization.