"So many of the things we learn in life we learn with time …You need spirituality…to get to a particular level."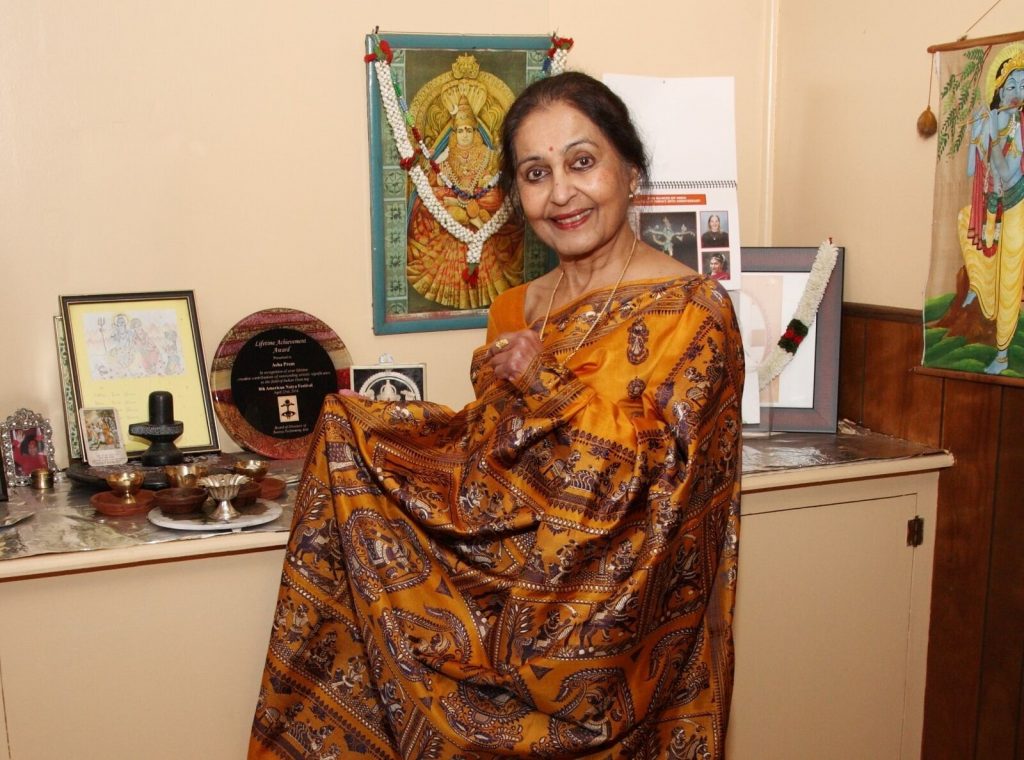 One of Asha Premachandra's earliest memories is of dancing to the radio in the living room as her younger brother was being born in their home in Bangalore, India. She was 5 years old.  
Even in adulthood, as she raised her own family, there was always music playing in the Premachandra home – and it wasn't unusual to find her in the kitchen, dancing.  
Perhaps the lifelong dancer and teacher knew it all along: Mastering the art of Indian dance meant understanding how intrinsically tied it is to the range of human feelings. 
"Dancing makes me happy," she said. "I've been dancing for a long time – I've always loved dancing."  
Premachandra and her husband were newlyweds when they left Bangalore in the 1960s. Before starting their family, the couple first worked on getting to know each other. They were married just 15 days after meeting, and soon left for the U.S. as her new husband, Dr. B.N. Premachandra, a research scientist, found work in St. Louis. Once here, the young bride realized that her new home was not the way she imagined it to be.   
"When I was in India, my idea of America was very glamorous. I watched the Esther Williams movies where she did synchronized swimming. I also liked Doris Day. The movies gave me a very different idea of the country," she said. "But when I came here, I observed that things were very, very quiet."  
Aside from getting used to her new surroundings and to married life, another big adjustment for Premachandra was learning to cook.  
"I didn't know cooking. In India, my mom or someone else cooked," she explained. "My mom told me to take some recipes with me – she gave me over 25 recipes she wrote down in a book – but the food wasn't the same. It was difficult to adjust."  
While her world may have changed entirely, there was always one constant: dance. Premachandra was already a seasoned performer in her native country before she came to America. She even danced for Indian president Sarvepalli Radhakrishnan as a young girl. 
"In South India, I had a close-knit family, and they were very, very supportive of dance," she said. "I used to be in shows and dance quite a lot – I still do."  
In America, one of the ways Premachandra pursued her love of dance is by sharing it with others. With the support of her husband, she established Dances of India, the first classical Indian dance company in St. Louis, more than 40 years ago. 
"When I started teaching, I taught in the basement for quite a few years," she recalled. "We also used to go to different schools to teach, and we did demonstrations and workshops."  
The dance company's inaugural performance was in 1977, and it has produced a professional show in the fall every year since then. Premachandra's husband later served as president of the company, and their daughter, Nartana, succeeded her father in the position following his death in 2014. Nartana also writes and produces the company's performances, along with artistic co-director Theckla Mehta, one of her mother's first students. 
For her part, Premachandra has worked to preserve and promote the art of Indian dance in her role as Dances of India's founder and artistic director. Whether on stage or in a class, one of her favorite styles to teach and to perform is bharatanatyam, a classical dance dating back more than 2,000 years.  
"It's close to yoga, and involves many yoga poses," she explained. "A good Indian classical dance will have something for the dancer to do from head to toe. The hallmark of this dance is its range of expression and hand movements – it was developed as a vehicle for storytelling."  
Premachandra said that mastery of movement and expression develops over time.  
"In my experience, it's very difficult to teach the range of emotions for someone who is young – their emotional capacities are limited," she said. "So many of the things we learn in life we learn with time. We become more mature, we have variations of anger, and we can connect with jealousy, cynicism, fear.  
"You need spirituality and the ability to get in touch with emotions – combined with the movements of the hands, eyes, face – to get to a particular level. It takes time to do that range. Many dancers don't peak until their 40s or 50s." 
But Premachandra is convinced – just as she was at 5 years old – that she's always had the essence of the art with her.  
"It has been a part of me," she said. "Even now, I dance every day."