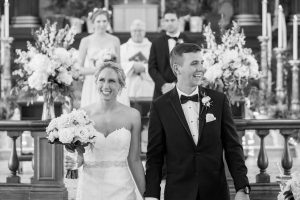 DATE: April 28, 2018 
CEREMONY: Basilica of Saint Louis, King of France (the Old Cathedral) 
RECEPTION: Hilton St. Louis at the Ballpark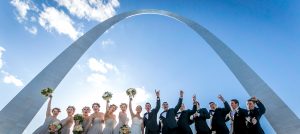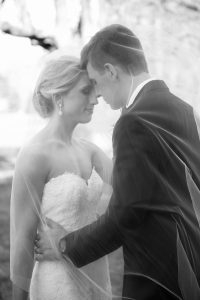 ABOUT THE COUPLE:  
She is in marketing and works for a top finance company in downtown Kansas City. He is a sales advisor for Spring Venture Group, also in Kansas City.  
HOW DID YOU MEET?  
We worked together at the same apartment complex during our junior year at the University of Missouri. We became friends right away, but it wasn't until our senior year of college that we started dating.  
WHAT INITIALLY ATTRACTED YOU TO EACH OTHER?  
Maggie: His sense of humor. He was such a goofball, always making people laugh. He had a large group of friends who adored him, and he had a way of making everyone feel included. I was also drawn to his kindness and fun personality.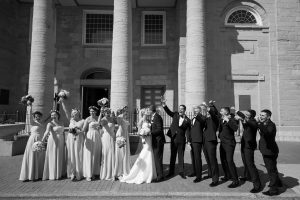 Jake: Similarly, it was her sense of humor. I knew instantly that I had never met anyone like her. We seemed to click right away, and I always secretly hoped I would see her when I walked into the leasing office where she worked. 
HOW HE PROPOSED. 
Maggie: We went to Vail, Colorado, with a group of friends shortly after Christmas in 2016. After a few days of skiing, we all went to Vail Village to watch the fireworks on New Year's Eve. Without me noticing, our friends slowly inched away from us until it was just the two of us standing together. Jake got down on one knee, and right after proposing, he said, "Please don't drop the ring in the snow!" 
TELL US ABOUT THE WEDDING DRESS.  
Maggie: Like a lot of people, I browsed through photos on Pinterest, but I really had no idea which style I wanted prior to dress shopping. As I tried on each one, I tried to picture myself marrying Jake in it. When I tried on the dress, I started crying because I knew it was the one. I loved the illusion back and the delicate lace details. The dress didn't originally have a belt, but my mom suggested it for the sparkle – and we all fell in love!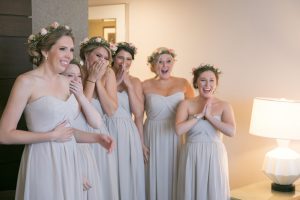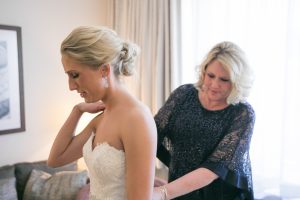 WHAT WAS UNIQUE ABOUT YOUR WEDDING? 
We had a lot of out-of-town guests, and we wanted them to have a true St. Louis experience. We put a lot of thought into where the reception would be, and decided on the Ballpark Hilton because it is quintessential St. Louis, with spectacular views of the Arch and the Old Courthouse. We also included gooey butter cake in the welcome bags, and served Imo's Pizza and Gus' Pretzels as late-night snacks.  
TELL US ABOUT WHY THE CHURCH IS SO SPECIAL.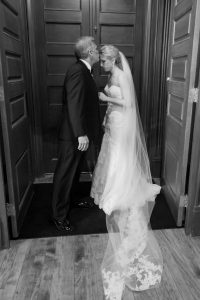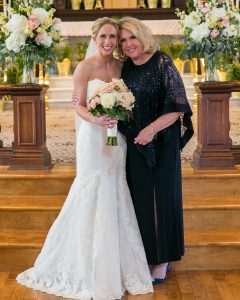 Maggie: My parents were married at the Old Cathedral, 30 years ago! My older sister and I were also baptized there. As soon as we got engaged, it was the first place that came to my mind. Not only is the cathedral incredibly historic and beautiful, but it was very meaningful to start our marriage where my own family began.  
WHAT WAS YOUR FAVORITE MOMENT OF THE BIG DAY?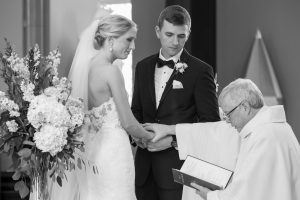 Maggie: After the exchange of vows and rings, Monsignor Stehly whispered, "That's it, you're married." It was the most surreal, wonderful moment – I'll never forget that feeling! 
Jake: The first dance. As I looked around at all our family and friends celebrating with us, it really sank in that we were finally married.  
WHAT DO YOU CHERISH MOST ABOUT YOUR RELATIONSHIP?  
Maggie: Soon after we met, I realized that Jake and I could have fun doing just about anything together. When our boss would ask for one employee to go deliver flyers to all the apartments, Jake and I would both volunteer because we just enjoyed being around each other. That continues to this day. I love doing everyday things with him, even grocery shopping or laundry! I just love being near him, and that makes life a lot of fun. 
Jake: I cherish our bond and friendship the most. She truly is my best friend, and we have a great time together, no matter what we are doing.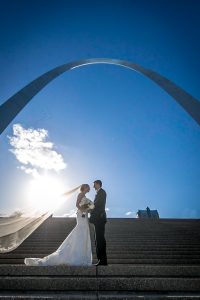 WHEN DID YOU REALIZE THAT THIS WAS THE PERSON YOU WANTED TO SPEND THE REST OF YOUR LIFE WITH?  
Maggie: When Jake met my mom, dad and sister, I knew it was the real deal. My family means everything to me, and they all hit it off right away. Watching him interact with the people I love most is the greatest feeling in the world. 
Jake: There is nothing that makes me happier than seeing the pure joy in her face when she smiles and laughs, and I knew that was something I could not live without.