"I believe very strongly that you never have to tell your kids anything – they should see it in your actions."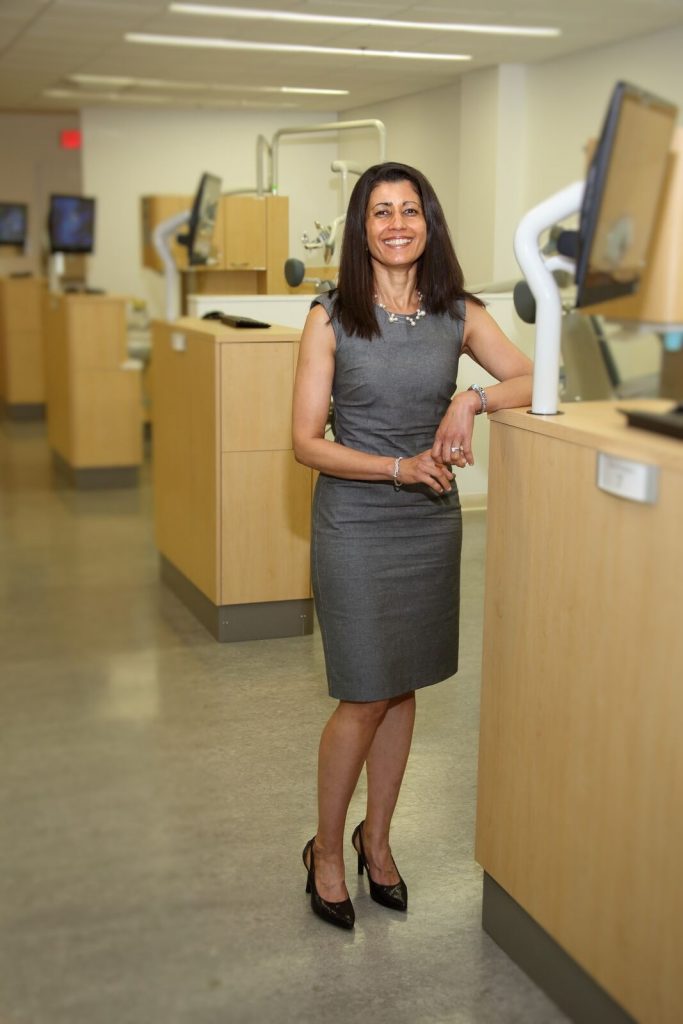 Raising a young family, while going to school and then pursuing a career requires a delicate balance – a balance Dr. Poonam Jain is constantly seeking even after years of successfully maneuvering her passions in life.  
"Finding balance is a continuous work in progress," she said. "Some days, I feel I do really well in one area, but not so well in others – then, it reverses the next day." 
It may also have to do with what she calls "a life that's been touched by magic," as she opened herself up to opportunities, and even a touch of serendipity along the way.   
A native of Punjab, India, Jain came to the United States with her husband, Rajneesh, in 1992. Her husband, who practiced orthopedics in India, was seeking a residency in orthopedic surgery, while she was trying to further her education after receiving her bachelor of dental surgery degree from the University of Delhi.  
The couple eventually settled in Springfield, Illinois, when Jain's husband was offered a residency in internal medicine.  
"The program director at the hospital was from Peru, and at our apartment complex, there were 14 other residents from Lima, Peru. We all became friends," Jain recalled. "My husband's chief resident, who loved cooking and entertaining, was hosting us for dinner one night. His brother, Dr. Jaime Silberman, was there, and he happened to be a dentist."  
Jain said that one chance encounter with the Peruvian dentist set the course for what was in store for the Jains in the years to come. 
"I told him, 'I'm a dentist!'" she said. "In those days, there was no internet, no websites … so I had been searching and writing letters, trying to find out the requirements for foreign dentists," Jain said. "When I asked Dr. Silberman what he knew about the program applications, he told me he was going to the University of Iowa. Then he asked, 'Why don't you come with me this weekend and meet the residency director?'" And, just like that, Jain was on her way to Iowa.  
"I stayed at Dr. Silberman's place that weekend, and was able to meet the residency director. We had a great interview, and talked for a whole hour, at the end of which, he offered me a residency," she said.  
Jain began the program at the University of Iowa in July 1995, with two young daughters at home – and a husband who was more than 200 miles away, working hard at his own residency in Springfield.  
When Jain graduated in 1997, the family moved to Staunton, Illinois, after she secured a teaching job at Southern Illinois University Edwardsville. And talk about serendipity? She ended up teaching in the same classroom where she took the national board exam just a few years prior.  
"When I took my national boards (part one) in July 1993, we had four hours of testing in the morning, and four hours of testing in the afternoon. I was 15 days from delivering my second child … the desks wouldn't fold to give me extra room. Here I was, with this big baby bump, and my ankles were swollen," she recalled. "I took the second part of the exam when my new daughter was 6 months old. I remember having a peanut butter and jelly sandwich for lunch, and nursing the baby at the same time. I felt out of place. I remember thinking all the other students were so young and fresh … and yet, years later, here I am, and I was to teach in the same classroom for the next 20 years."   
In August 2017, Jain was appointed vice-dean for clinical education, operations and community partnerships at A.T. Still University-Missouri School of Dentistry & Oral Health, which runs the St. Louis Dental Center, a facility that provides high-quality, comprehensive and affordable oral care for uninsured and under-insured St. Louisans. These days, she is heavily involved with the university's Veterans Project.  
"As part of our community service-oriented approach, we set up a wonderful dental clinic at the Lighthouse Church of Dexter, Missouri. Most of the patients required extractions, and they needed dentures. Not all of them are veterans, but the president of the university gave us an initial $10,000 grant to serve veterans, and we chose to make dentures for those who needed them," she explained. "The patients traveled to St. Louis, and volunteer students came on a Saturday morning to do dentures."  
To date, the Veterans Project has created 25 pairs of dentures, with hopes of expanding the program to offer comprehensive dental services.  
"Our goal is to eventually serve veterans in the St. Louis region," Jain said. "It's not only a great service to veterans, but it's a tremendous educational value to our students. It inspires them to serve vets in their future careers."  
It would come as no surprise that Jain's tendency for teaching began with her family at home.  
"My father was in the Indian Air Force, so we moved every three years. My husband also grew up with his father in the Air Force. While we were both fortunate, our opportunities were limited compared to what our daughters have had – swimming classes, music lessons – those kinds of opportunities are so wonderful to have growing up," she said.  
Even now that her daughters are older – two are in their mid-20s, the youngest is 15 – Jain never passes up the chance to impart lessons here and there. 
"I believe very strongly that you never have to tell your kids anything – they should see it in your actions. They see you get up in the morning, go to work, volunteer … and they watch that. Actions are so much more important," she said.  
Just as important, Jain added, is having meaningful conversations. 
"When you sit down to dinner every night, the kids hear your opinions at the table. I believe a large part of their personalities were shaped by those conversations. We eat at the dinner table as a family: no TV, no cell phones."  
This belief has extended into other aspects of Jain's life, including as a Girl Scout leader for 18 years.  
"I spent a lot of time leading a Girl Scout troop and as service unit director. When I ran day camp, I always emphasized that when we ate our snacks, we looked at each other, not at our cell phones," she said. 
Jain's desire for connecting with those around her is evident in how she chooses to spend her free time – teaching yoga. Most Sundays, she holds classes for groups ranging from bank employees to high school band members, to dental students at the St. Louis Dental Center.    
"I always say balance is not anything you achieve, it is something you constantly strive for – and this pertains to balance in yoga poses and balance in life," she said.  
And while balance may be elusive and hard to come by, Jain says happiness is certainly something that can be attained every day.  
"Happiness is a different thing altogether – it is to be found throughout the journey."