"There's a depth of study that goes into learning work from a conductor's point of view…you have to find a way to communicate the music."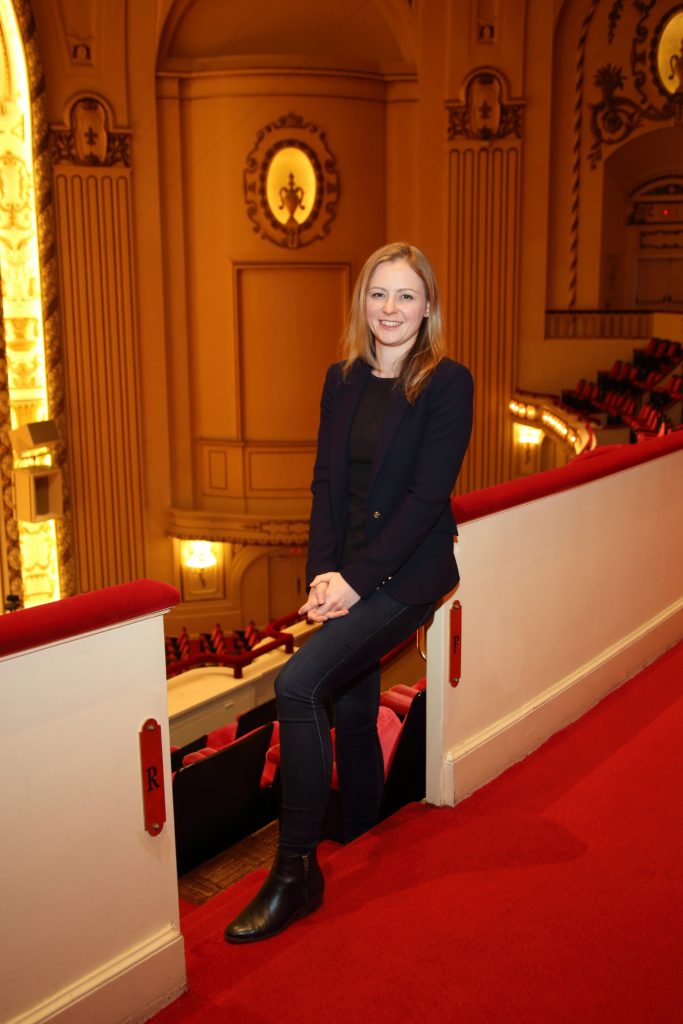 While she's likely most noted for being the St. Louis Symphony Orchestra's resident conductor, Gemma New is just as passionate about her job as director of the symphony's Youth Orchestra—and for good reason.
"The Youth Orchestra has 100 very talented youth musicians from the St. Louis area," New said, noting that members come from schools all over the bi-state region, and some travel more than 100 miles each way to participate. "We have a very focused, attentive and passionate group of young musicians in the Youth Orchestra, and the morale is high, so each member knows to come prepared as a way of respecting their fellow musicians. With every youth orchestra, you find a wide range of experience, which means we need to be careful to program music that is a healthy challenge, but also an opportunity for each player to shine."
New speaks from experience.
"I personally grew up playing in a youth orchestra. It's incredibly important to a young person's development," she explained. "It gives them an idea of work ethic, teamwork, the importance of expressing and processing their feelings and having a voice—but not necessarily through speech. It's a way of nurturing young people with music."
In addition to her role with the St. Louis Symphony, New is also music director for the Hamilton Philharmonic Orchestra in Ontario, Canada, and has had guest engagements with the Royal Scottish National Orchestra, Helsingborgs Symfoniorkester, Filharmonia Szczecin and Orchestre de Chambre de Lausanne in Europe, the Omaha, Albany and Berkeley Symphonies in the U.S., and the Auckland Philharmonia and Christchurch Symphony in New Zealand. She most recently served as associate conductor with the New Jersey Symphony Orchestra prior to her move here.
New's steady ascent in the music world can be traced to a childhood in Wellington, New Zealand, encouraged by nurturing parents.
"I started playing violin at 5, piano at 7, then I started playing in an orchestra. The experience of playing with others got me passionate about playing music," she recalled.
New's mother, who pursued a law career before becoming a full-time mom, was also a musician and still plays the violin in community orchestras in Wellington. Her father still works as an actuary for a bank.
"The training that goes into becoming an actuary includes a lot of mathematics, as does the job—he is a bit of a math whiz!," she said. "For me, mathematics was helpful. When I went to college, I pursued a music degree in violin performance and also a mathematics degree. I did that all the way through for four years, side by side. I was most interested in calculus, and I still use the algebra and proof theory as one of the ways I analyze and memorize scores."
New recalls two moments of "conscious decisions" when she knew for sure what she wanted to do with her life.
"It's an inspired feeling that you have, it's a calling," she said. "I remember I was 12, playing in a youth orchestra and having this great feeling of being part of this glorious sound. A few years later, at age 15, a teacher was leaving and we were preparing a surprise performance as a thank you. They asked me, 'Gemma, why don't you conduct it?' And I loved it—going through rehearsal and preparing, going through the work—being conductor gives you knowledge of what everyone is doing."
New also believes being conductor is the best way to express her musical voice.
"There's a depth of study that goes into learning work from a conductor's point of view; and to me, it felt natural and comfortable, more so than playing the violin solo," she said. "The conductor has to communicate physically and almost telepathically with orchestra musicians—you can't say anything to them and you can't communicate with the crowd, but you have to find a way to feel and to communicate the music."
In her role as resident conductor, New says it's a joy to be able to perform such a wide variety of music, and have a hand at creating a program that expands the audience's horizons. Her upcoming performances with the St. Louis Symphony at Powell Hall include "Star Wars: A New Hope" in concert (Jan. 24 to 27) with the SLSO playing John Williams' iconic score while the film plays on the big screen; Family Concert: Carnival of the Animals (March 24), where animals of the zoo are brought to life through music in a family-friendly concert; and Mozart and Strauss (April 5 to 7), with pieces such as Thomas Adès' "Three Studies from Couperin," Mozart's "Concerto for Flute and Harp, K. 299," and Richard Strauss' "Le Bourgeois Gentilhomme" Suite.
New considers former St. Louis Symphony music director David Robertson, as well as music director designate Stéphane Denève, L.A. Philharmonic's Gustavo Dudamel and Finnish conductor Esa-Pekka Salonen, among her mentors. But she has established her own artistry over the years.
"I try to embody the music. I study the score and make natural logic out of it—listen to the energy and the phrasing, what's going on in the orchestra and connect with that sound, reach to it and manipulate it, if needed," she explained. "It's a pretty organic process, and I like to take it a different direction each time. I really love how sensitive to the music these musicians are, and how we create something really beautiful and in the moment."